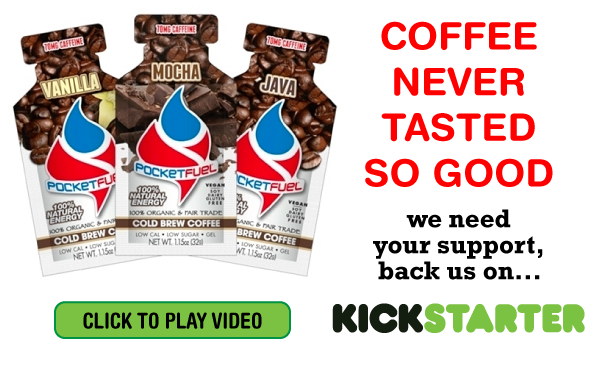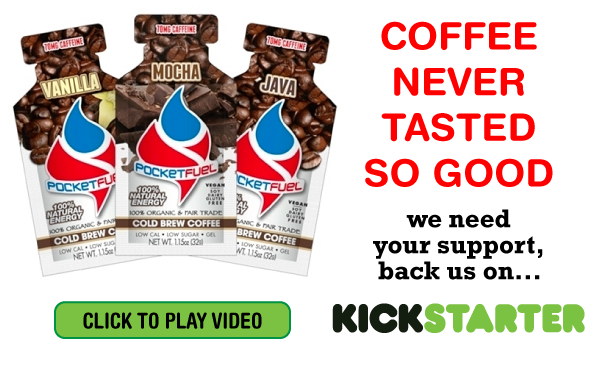 PocketFuel Naturals, LLC headquartered in Hood River, Oregon USA is now offering organic cold brewed coffee energy shots to their already popular nut butter product lineup.
This new and exciting cold brewed coffee is made from 100% Organic Fair Trade coffee beans and is steeped in cold water from Mt. Hood for 15 or more hours which reduces the coffee's acidity and brings out the natural coffee flavors. Cold-brewing the ground beans produces a sweeter coffee that is approximately 67% less acidic than coffee brewed by conventional hot-brew methods.The coffee is then carefully mixed with 100% Organic coconut milk which creates a natural creaminess in a "pudding-like" format – it's delicious and a healthy alternative to those "other" energy drinks or gel shots.
The final product is 100% Vegan with no soy, dairy or gluten whatsoever. It's a 100% natural, plant-based, whole food energy shot you can carry in your pocket anywhere you go. The texture is like pudding in a pouch and the taste is delicious, naturally sweetened coffee. All this great flavor while providing a good source of antioxidants in 1.15oz. (32g), single serve packets delivering 70mg caffeine per serving all from coffee – no additives whatsoever.

Get more information about the Kickstarter at the following website:
https://www.kickstarter.com/projects/1342278025/cold-brew-coffee-readyto-go
Mark and Heidi Ribkoff and Rod Parmenter, co-founders of PocketFuel, expanded their nut butter product line back in December 2011 with the help of the Kickstarter (http://www.kickstarter.com) platform and were successfully funded via "micro investments" on Kickstarter allowing them to bring the popular nut butter portable pouches to market. Since then, both small and large retailers around the United States and beyond have embraced the PocketFuel nut butter products that come in 5 different almond butter flavors: Banana Blueberry, Coconut Cherry, Chocolate Espresso, Chia Goji & Honey and Pineapple Coconut as well as 2 hazelnut butter flavors: Chocolate Haze and Vanilla Haze.
PocketFuel has just expanded their 100% natural, whole food offerings by producing their first runs of cold brew coffee energy shots in machines and packaging that were not designed specifically for these energy shots. So they re-designed new packaging that functions much better with a quick tear off top and narrower spout. This new packaging design requires custom molds and a new filling machine. These two requirements come as a package deal and together will allow them to mass produce the cold brew energy shots for everyone to enjoy around the world.

Elev8 is assisting PocketFuel Naturals with their direct-to-consumer micro-investment strategy via the Kickstarter platform. Now through April 18, 2014 PocketFuel is seeking their second round of micro investments via the Kickstarter platform, that not-so-incidentally, has raised more than 1 Billion US dollars for small startups around the world just like PocketFuel.
Potential investors can make a risk-free "micro investment" of as little as $10 or as much as $2500 each with a corresponding "backer reward." If the project is not fully funded then all backers are refunded their initial investments. This is truly a no risk investment.
About PocketFuel
Founded in Hood River, Oregon in 2010 by Mark & Heidi Ribkoff and Rod Parmenter. PocketFuel was created by athletes for athletes. It all started when Mark (a multisport athlete) began developing the product in late 2010 while training for Ironman Canada. Eating fresh, whole foods at home, he knew he both needed and wanted to eat the same way as he trained to achieve the results he wanted. Mark has been a product innovator and market disruptor in the sporting goods market for 20 years. Taking that passion and knowledge, he applied it to this new project! Their kitchen soon became a big testing lab.
PocketFuel is proud to now have their very own production facility on the waterfront in Hood River, Oregon in the beautiful Columbia River Gorge. All of their handcrafted line of Nut Butter blends and brand new Cold Brew Coffee Energy Shots are made by their dedicated team, in-house, thereby ensuring quality, consistency and fresh product delivered on-time to their customers.
Contact at PocketFuel:
Heidi Ribkoff
Co-founder of PocketFuel, LLC
1767 12th St, #167
Hood River, OR 97031
phone: 541-436-2996
email: heidi@pocketfuelnaturals.com
www.pocketfuelnaturals.com
To find out about how Elev8 can help you with your Kickstarter campaign contact:
Tyler Barnes
chief of accounts
tyler@elev8brand
TOLLFREE: (866) 936-9105 ext.23
Direct: (541) 387-4550
Fax: (866) 936-9105
www.elev8brand.com
###