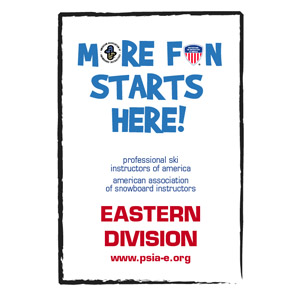 When Professional Ski Instructors of America – Eastern Division came up with a grass roots marketing campaign called "More Fun Starts Here" in an effort to bring awareness of the benefits of taking a ski or snowboard lesson from a PSIA Certified instructor, we jumped on the opportunity to refine the visuals.
Since kicking off the promotion in Albany, NY at the PSIA-Eastern headquarters, the effort has expanded to Truckee, CA home of the PSIA Western Division headquarters. And now, as of today, the PSIA Rocky Mountain division in Steamboat Springs, CO is coming on-board too! This equates to more than 200 resort snowsports schools in more than 16 states at resorts like Aspen, Colorado and Mammoth Mountain, California to Killington, Vermont will be displaying this message prominently.
The slogan, "More Fun Starts Here" was coined by committee members of the PSIA-Eastern Division and has been endorsed at the PSIA National Organization level too.
Tyler Barnes of Elev8 took their initial visuals and cleaned them up while supplying the graphic in multiple formats for use in softgoods, accessories, indoor presentation boards and more than 200 six-foot outdoor banners that will be displayed at Snowsports Schools across the nation.

We are excited to be a part of this grassroots effort to promote taking a lesson! This ties in very nicely with the Learn to Ski and Snowboard Month (officially January).
For more details about the More Fun Starts Here initiative contact Michael Mendrick, Executive Director at PSIA-E.
For more details about the Learn to Ski and Snowboard Month (LSSM), contact Mary Jo Tarallo, Executive Director at LSSM and BAF.
For information about how we can build your brand, contact Tyler Barnes at Elev8.